This week on Three Things Thursday, I'm sharing with you three recent novels I loved.
1) Other Birds by Sarah Addison Allen 
Sarah writes the kind of stories I wish I could write. Her treatment of sensitive topics keeps her novels current and relevant. The whimsy she imbues into her characters and settings keeps her novels easy to read and delightful. Her magical realism keeps me coming back to her books time after time.
Long-awaited, Other Birds was released on August 30, 2022, and did not disappoint.
Zoey Hennessy shows up in Mallow Island, SC with an imaginary bird on a hunt to learn more about her long-deceased mother. She inherited a condo at the Dellawisp that belonged to her mother. Almost immediately upon arrival, a neighbor dies suddenly, and Zoey is drawn into the woman's history.
While cleaning out the dead woman's apartment, Zoey develops relationships with the other three owners and the caretaker. While creating a family unlike the one she was born into, Zoey learns that life is what you make of it, and sometimes the answers to your questions are found in the most unlikely places.
Up next on my list, we go from magical realism to gritty reality.
2) They Call Her Dirty Sally by Amy Matayo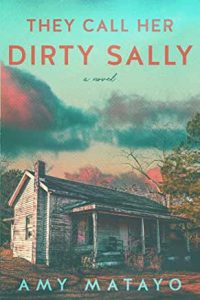 Amy is one of my favorite authors to follow on Facebook because her posts are honest, down-to-earth, and engaging. Her newest book, They Call Her Dirty Sally, carries that same vibe. 
The book begins with a reporter traveling to a small town in Arkansas to cover the story of a horrific hospital fire thirty years ago. He's not expecting to have to dig deep to get anyone to talk about the fire, but the town is not talking. That digging leads him straight to Sally, a woman who hasn't spoken to anyone since the night of the fire and whom everyone calls dirty. However, locked up inside her, Sally holds a secret about what really happened that night, and little does he know, the reporter will find it ties directly to him.
Certainly a tough read because of the story, but well worth it.
3) Under Fire by Lynn Huggins Blackburn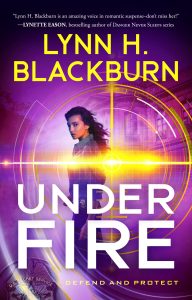 When I first met Lynn years ago, she just received her first book contract. Little did I know that I would so eagerly anticipated her books over the years. 
Under Fire is the third book in the Defend and Protect series. Each of Lynn's books combines edge-of-your-seat suspense with charming romance. This last book in this series weaves Tessa's and Zane's story into a thriller of protecting the president and trying to stay alive. Full of great characters and quirky dialogue, I definitely add Under Fire to my list of favorites.
These are Three Things I'm loving this week.
Let's chat: What novels have you read lately that you love?